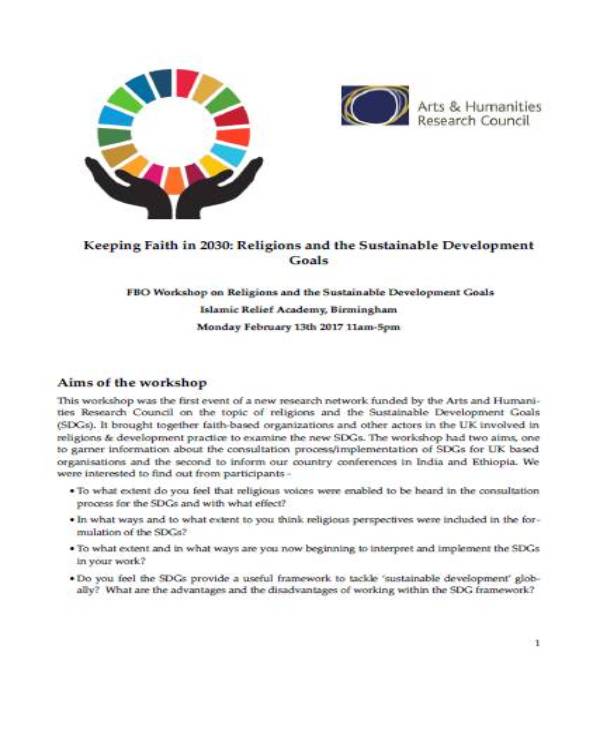 4. FBO Workshop on Religions and the Sustainable Development Goals, UK.
This workshop was the first event of a new programmes network funded by the Arts and Humanities Programmes Council on the topic of religions and the Sustainable Development Goals (SDGs). It brought together faith-based organizations and other actors in the UK involved in religions & development practice to examine the new SDGs. The workshop had two aims, one to garner information about the consultation process/implementation of SDGs for UK based organisations and the second to inform our country conferences in India and Ethiopia. We were interested to find out from participants:
To what extent do you feel that religious voices were enabled to be heard in the consultation process for the SDGs and with what effect?
In what ways and to what extent to you think religious perspectives were included in the formulation of the SDGs?
To what extent and in what ways are you now beginning to interpret and implement the SDGs in your work?
Do you feel the SDGs provide a useful framework to tackle 'sustainable development' globally?
What are the advantages and the disadvantages of working within the SDG framework?
We finished the workshop with a discussion in two groups, one for India and one for Ethiopia, that was guided by the following questions:
What, in your opinion, are the gaps and priorities in programmes around religion and the 2030 sustainable development agenda?
How engaged are religious groups/FBOs in policy discourses around religion and sustainable development – how could it be done better – and how might this network facilitate that?
Who are the key stakeholders to engage at the country level around the SDGs? What networks are you connecting with to talk about the SDGs?
How best might the network integrate academic and non-academic partners?
Report available at: https://religions-and-development.leeds.ac.uk/programmes-network/ More from "Keeping Faith in 2030: Religion and the Sustainable Development Goals":1. Findings and Recommendations
2. Workshop Report: Religions and Development in Ethiopia, Addis Ababa, September 20th-21st 2018.
3. Citizenship, Marginalities and Development: Marginalised Communities and the Sustainable Development Goals, New Delhi, India.