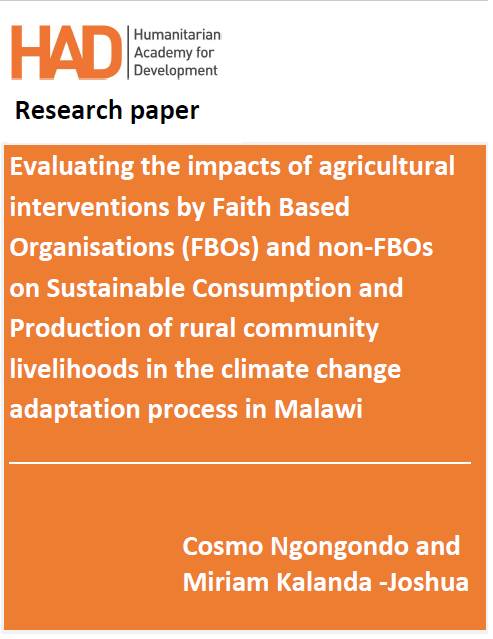 Evaluating the impacts of agricultural interventions by Faith Based Organisations (FBOs) and non-FBOs on Sustainable Consumption and Production of rural community livelihoods in the climate change adaptation process in Malawi.
"Climate change and variability, coupled with other pressures such as environmental degradation and rapid population growth, are negatively impacting on agricultural production in many parts of Malawi. Consequently, rural livelihoods have been greatly affected as most of the communities depend on subsistence agriculture. To alleviate from further impacts and improve agricultural production, many stakeholders have introduced various agriculture based interventions. This study was aimed at evaluating the impacts of agriculture based interventions on Sustainable Consumptions and Production (SCP) on community level rural livelihoods in Malawi. A focus of the study was on those interventions by Islamic Faith Based Organisations (FBOs) as well as non-Islamic FBOs and other players. The study was undertaken in seven districts in Malawi with significant Muslim and non-Muslim populations namely Dedza, Salima, Mangochi, Balaka, Nkhotakota, Machinga and Zomba."
Office
Humanitarian Academy for Development
Citation
Cosmo Ngongondo and Miriam Kalanda-Joshua (2018) Impacts of Agricultural Interventions by FBOs and non-FBOs in Malawi, Humanitarian Academy for Development, Birmingham, UK.