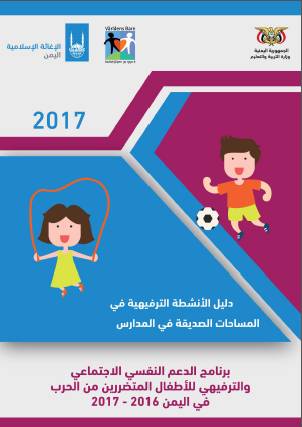 A guide to recreational activities in school-friendly places
The version of the manual is not written by any of the staff or members of the project team of protection and psychological support and entertainment implemented by Islamic relief.
These are activities that have been used by several sources, especially the Ministry of education, international and local organisations and others. They have been studied, compiled and applied in a relatively different way through planned and structured monthly plans for pilot purposes that achieve project objectives and outputs in terms of the following classification:
Acitivites on psychosocial support
Activities on child protection
Activities on child protection from risks
Citation
Islamic Relief Yemen (2017) Social and Recreational Support Program for Children affected by the War in Yemen 2016-2017, Islamic Relief Worldwide, Birmingham, UK.