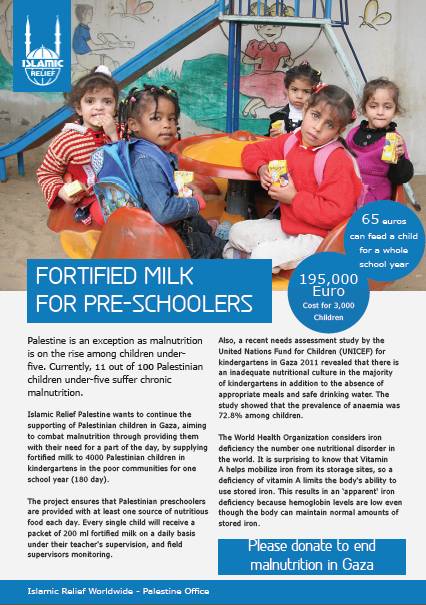 Palestine is an exception as malnutrition is on the rise among children under five. Currently, 11 out of 100 Palestinian children under-five suffer chronic malnutrition.
Islamic Relief Palestine wants to continue the supporting of Palestinian children in Gaza, aiming to combat malnutrition, through providing them with their need for a part of the day, by supplying fortified milk to 4000 Palestinian children in kindergartens in the poor communities for one school year (180 day).
The project ensures that Palestinian preschoolers are provided with at least one source of nutritious food each day. Every single child will receive a packet of 200 ml fortified milk on a daily basis under their teacher's supervision, and the filed supervisors monitoring.
Office
http://www.irpal.ps/irpal/
Citation
Islamic Relief Palestine (2013), Fortified milk for pre-schoolers, Islamic Relief Palestine, Ramallah, [Online] available at: http://www.irpal.ps/irpal/