March 9, 2020
Why Leave No One Behind is a priority in 2020
In 2015, UN member states adopted the 17 Sustainable Development Goals (SDGs) pledging that "no one will be left behind" and to "endeavour to reach the furthest behind first." This means committing to taking action to end poverty, reduce inequality, confront discrimination and address climate change by 2030.
How do people get left behind?
People get left behind when they lack opportunities to progress. The UNDP states there are five factors which impact how likely a person is to be left behind, and the more of these factors that an individual is affected by, the more likely it is that they will be left behind. These factors are: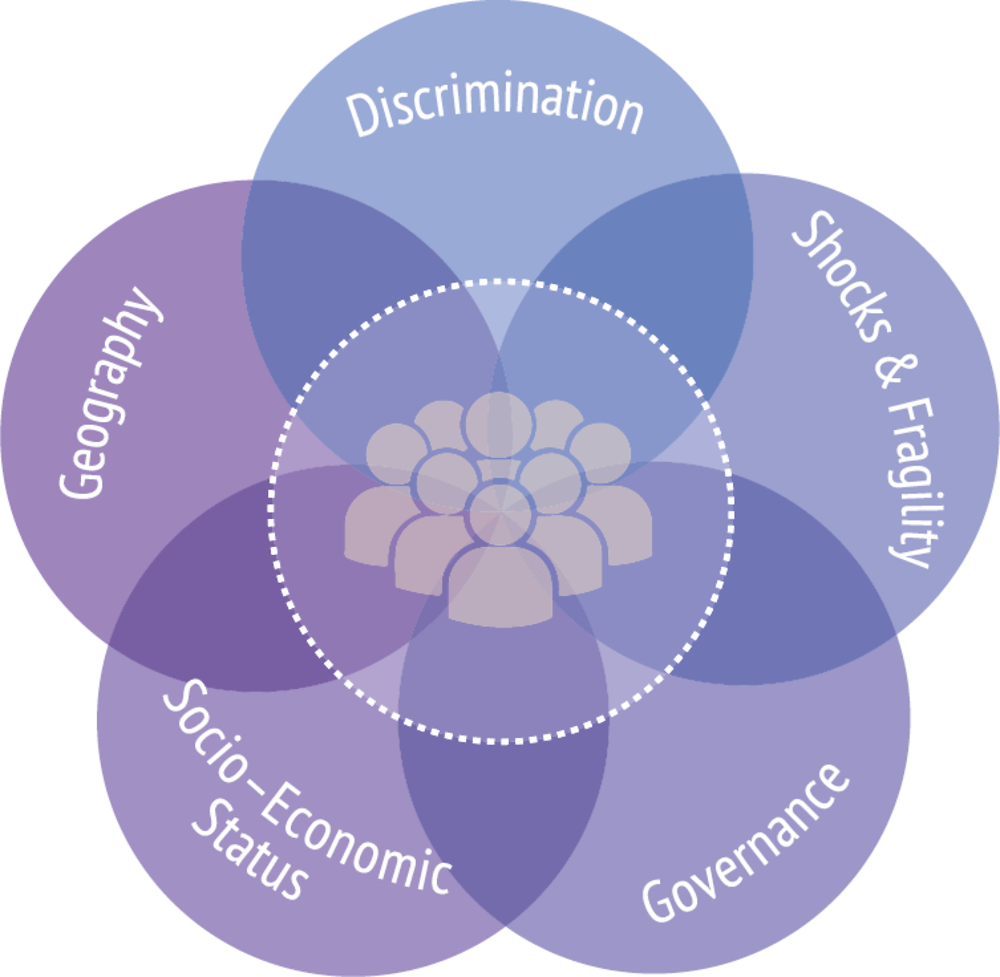 Discrimination – What biases, exclusion or mistreatment do people face based on one or more aspects of their identity (ascribed or assumed), including prominently gender as well as ethnicity, age, class, disability, sexual orientation, religion, nationality, indigenous, migratory status etc.?
Geography – Who endures isolation, vulnerability, missing or inferior public services, transportation, internet or other infrastructure gaps due to their place of residence?
Governance – Where do people face disadvantage due to ineffective, unjust, unaccountable or unresponsive global, national and/or sub-national institutions? Who is affected by inequitable, inadequate or unjust laws, policies, processes or budgets? Who is less or unable to gain influence or participate meaningfully in the decisions that impact them?
Socio-economic status – Who faces deprivation or disadvantages in terms of income, life expectancy and educational attainment? Who has less chances to stay healthy, be nourished and educated? Compete in the labour market? Acquire wealth and/or benefit from quality health care, clean water, sanitation, energy, social protection and financial services?
Shocks and fragility – Who is more exposed and/or vulnerable to setbacks due to the impacts of climate change, natural hazards, violence, conflict, displacement, health emergencies, economic downturns, price or other shocks?
What does it mean to Leave No One Behind?
The pledge to leave no one behind comes from the identification of the gap between the world's richest and most developed and the world's poorest and least developed. The inequalities and deprivation will subside only when the furthest behind benefit to a greater degree and at a faster pace from government policies and investment. The people who are most deprived essentially need investment and policies that allow them to catch up, to reduce the gap.
2020: The year of action
UN Deputy Secretary-General Amina Mohammed has cited 2020 as "the year we must change course" and hopes to initiate a Decade of Action to ensure the Sustainable Development Goals are met by 2030. There are several reasons why 2020 is set to be a huge year in the aid and development sector and for activism in general. Firstly, it has been 5 years since UN member states first adopted the SDGs, the first key milestone and opportunity to look back at what progress has been made. It is also 25 years since the adoption of the Beijing Declaration and Platform for Action, causing member states to look at why gender equality has not yet been achieved, and causing a global push for equal rights, respect and opportunities across all genders. Specifically for the UK and Europe, 2020 also marks the year Britain left the European Union, causing much debate to rise around inter-country relations, immigration policies, trade deals etc.
With rapid advancements in technology and development, it has now become more important than ever that people are not left behind, and that they are allowed or enabled to access same opportunities for progression.
At HAD we support the Leave No One Behind agenda through our capacity building of frontline NGOs, maximising the effectiveness and efficiency of local humanitarians.
We were also a media partner of the AidEx Nairobi & Brussels events in 2019, when the theme was Leave No One Behind.
Written by Romey Watters
Digital Marketing Officer
Tags:
Sector News
---